ME-3400-24FS-A, Cisco ME 3400 Switch - 24FX SFP + 2 SFP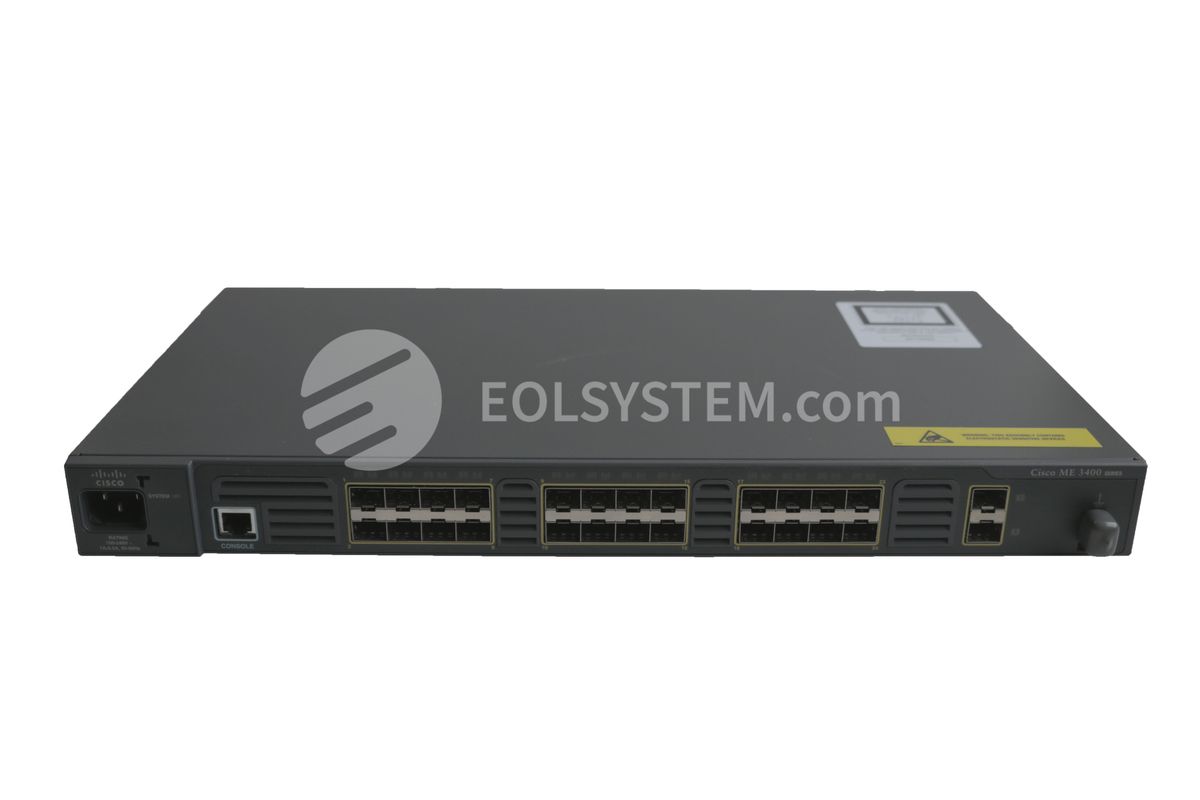 The ME-3400-24FS-A is a member of the Cisco ME 3400E series of Ethernet Access Switches. Some of its key features, as described in the datasheet, include:
24 Fast Ethernet ports: The switch has 24 10/100 Fast Ethernet ports that can provide up to 15.4 watts of power per port for PoE devices.
Four Gigabit Ethernet SFP ports: In addition to the Fast Ethernet ports, the switch also has four small form-factor pluggable (SFP) Gigabit Ethernet ports that can support a variety of SFP transceivers for connectivity over different distances and media types.
Layer 2 switching: The switch supports basic Layer 2 switching features, including VLANs, Spanning Tree Protocol (STP), and link aggregation.
Advanced QoS capabilities: The ME-3400-24FS-A supports a variety of QoS features, including traffic classification and marking, policing and shaping, and priority queuing.
Security features: The switch includes support for 802.1x authentication, port security, and MAC address filtering to help secure access to the network.
Simple Network Management Protocol (SNMP) support: The switch supports SNMP v1, v2c, and v3 for network management.
Flexible deployment options: The switch can be deployed in a variety of network topologies, including as a standalone switch, as part of a stack of up to 16 switches, or as a service module in a Cisco 7600 Series Router.
Overall, the ME-3400-24FS-A is a versatile switch that can provide basic Layer 2 switching as well as advanced QoS and security features, making it suitable for use in small to medium-sized enterprise networks.
If you're interested in buying the ME-3400-24FS-A, simply contact us at shop@eolsystem.com. Our team of experts can help you choose the right switch for your needs and provide competitive pricing and reliable delivery. Plus, with our extensive experience in networking and IT solutions, we can provide comprehensive support and advice to help you get the most out of your investment.