The Cisco ASR1001-HX Router: The Solution for Enterprise Networking Challenges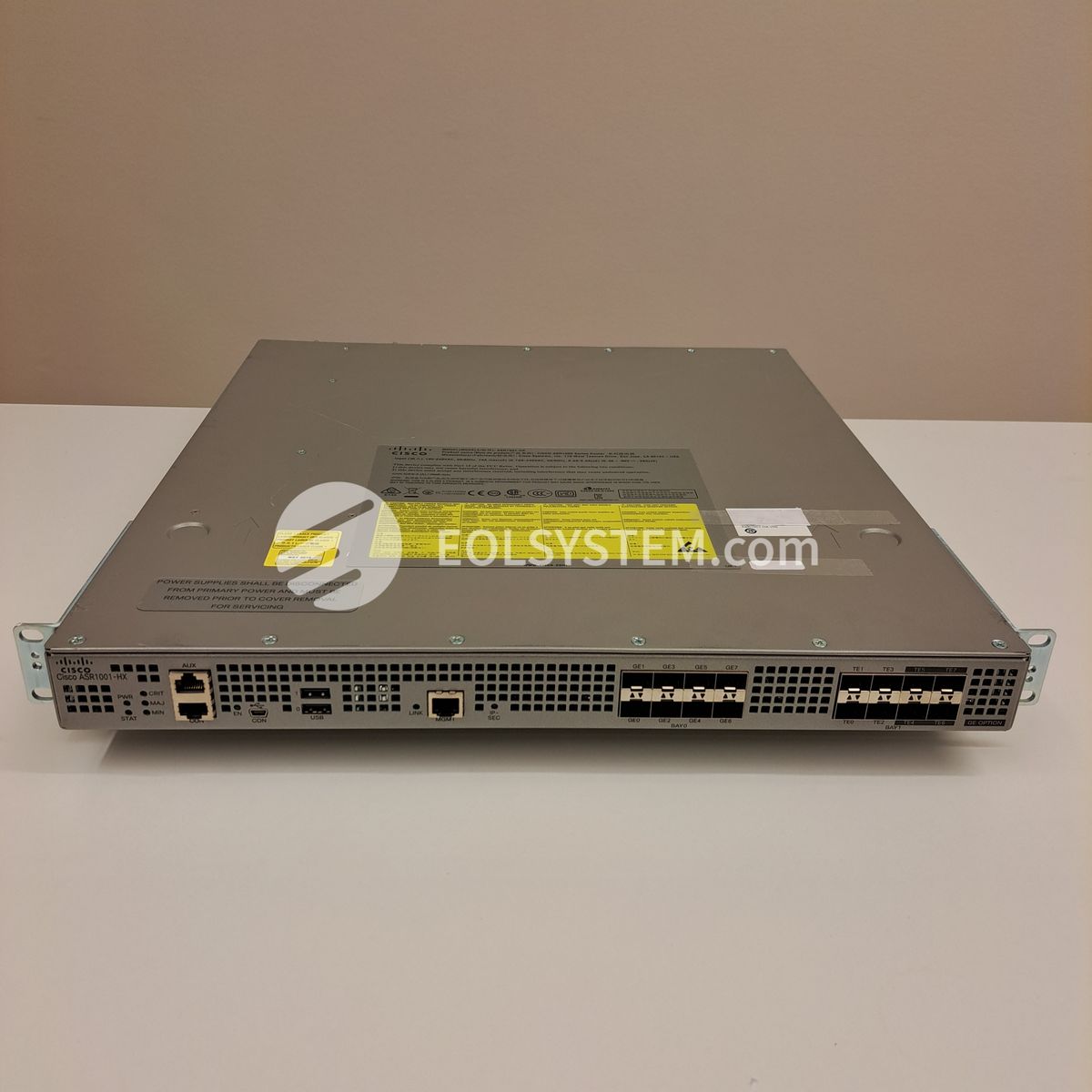 Cisco ASR1001-HX, Cisco ASR1000 Series Router, 800-45603-05, 800-45608-02
Buy ASR1001-HX now!
In today's digital age, enterprise networks require reliable and high-performance routing solutions to meet the increasing demand for bandwidth-intensive applications, cloud connectivity, and distributed workforce connectivity. The Cisco ASR1001-HX router is a powerful networking device designed to help organizations overcome these challenges and optimize their WAN connectivity.
The ASR1001-HX router is built on the Cisco IOS XE operating system and delivers high-speed performance with up to 100 Gbps of throughput. It features eight 10 Gigabit Ethernet (GE) and eight 1 GE interfaces, making it ideal for large enterprise branch offices or data center connectivity. Additionally, it supports high-density Ethernet Line Cards, including 10 GE and 40 GE, and a modular interface processor, offering flexibility in terms of future network growth and evolution.
One of the key features of the ASR1001-HX router is its support for Cisco Software-Defined WAN (SD-WAN). Cisco SD-WAN enables the router to monitor, control, and report on streams of application data, allowing organizations to prioritize business-critical applications, reduce operational expenditure, and enhance network reliability. The router also features deep packet inspection capability, which accurately identifies and controls thousands of different applications, including custom in-house enterprise applications.
The ASR1001-HX router is WEEE compliant and supports Cisco's takeback and reuse program, ensuring that it adheres to environmental regulations and promoting sustainability. Additionally, Cisco Services provides a range of services based on proven methodologies, including planning and design, technical support, and optimization, which helps organizations maximize the benefits of the router and ensure that it performs at its best.
In conclusion, the Cisco ASR1001-HX router is an excellent solution for large enterprise branch offices and data center connectivity. Its high-speed performance, flexible interfaces, and support for SD-WAN make it an ideal choice for organizations looking to optimize their WAN connectivity. With its WEEE compliance and support for sustainability, the ASR1001-HX router is also a responsible choice for organizations looking to minimize their environmental impact.
Physical dimensions: 1.7 x 17.2 x 22.5 inches (4.3 x 43.6 x 57.2 cm)
Weight: 22.5 pounds (10.2 kg)
Power supply: Dual AC or DC power supplies (100-240V AC or -40 to -72V DC)
Power consumption: 130W (base system) to 290W (fully configured)
Operating temperature: 32 to 104°F (0 to 40°C)
Storage temperature: -40 to 158°F (-40 to 70°C)
Operating humidity: 5 to 85% non-condensing
Storage humidity: 5 to 95% non-condensing
Rack-mountable: Yes, fits standard 19-inch rack
Redundancy: Hot-swappable components and redundant power supplies for high availability
Supported protocols: IPv4, IPv6, MPLS, BGP, OSPF, IS-IS, EIGRP, RIP, PIM, LDP, RSVP, VPLS, L2VPN, L3VPN, DMVPN, GETVPN, FlexVPN, and more
Security features: Hardware-based encryption, firewall, and VPN capabilities, as well as support for Cisco TrustSec and Cisco Stealthwatch
Buy ASR1001-HX now!