Buy Now!
SuperMicro's SuperServer 1028GR-TR has established itself as a formidable solution in the compact server market. An ideal choice for both SMBs and home lab environments, this high-performance server brings robust power, efficiency, and scalability to your IT infrastructure.
The SuperServer 1028GR-TR is a 1U Rackmount server by SuperMicro, notable for its impressive benchmark records with STAC-A2™.
Key features of this server include:
Dual socket R3 (LGA 2011) supporting Intel® Xeon® processor E5-2600 v4†/ v3 family with QPI up to 9.6GT/s
Up to 2TB† ECC 3DS LRDIMM, up to DDR4- 2400†MHz with 16 DIMM slots
4 PCI-E 3.0 x16 slots (3 GPU/MIC cards optional), 1 PCI-E 3.0 x8 LP slot
Intel i350-AM2 Dual port GbE LAN
4 Hot-swap 2.5" SATA3 Drive Bays
1600W Redundant Power Supplies with Platinum Level (94%+) efficiency
10 Counter rotating fans with optimal fan speed control
Smart server management tools
Other specifics include support for NVIDIA® Tesla® K1/K2/K10/K40/K80/M40/M60/Xeon Phi GPUs, Intel® C612 chipset, and SATA3 (6Gbps) with RAID 0, 1, 5, 10. It has a dedicated IPMI LAN port and supports Intelligent Platform Management Interface v.2.0. The server also has a variety of USB ports (4x USB 3.0 ports, 2x USB 2.0 ports) and features a VGA Connector for video.
The SuperServer 1028GR-TR measures 1.7" in height, 17.2" in width, and 30.6" in depth, and it weighs 35 lbs. The server's chassis model is CSE-118GH-R1K66B.
The server is equipped with health monitoring features for CPU, FAN, temperature, and LEDs. It is also RoHS compliant and has a working temperature range of 10°C to 35°C.


Part Number

Qty

Description

Motherboard / Chassis
MBD-X10DRG-H
CSE-118GH-R1K66B
1
1
Super X10DRG-H Motherboard
CSE-118GH-R1K66B Chassis
Air Shroud
MCP-310-11803-0N
1
Air Shroud for Air X9DRG/X10DRG boards in CSE-118GH-R1K66B
Backplane
BPN-SAS-118G-4
1
4-port 1U direct-attached backplane, support up to 4x 2.5-inch SAS/SATA HDD/SSD
Cable 1
CBL-0296L
5
4 pin to 4 pin fan extension cord, for PWM fan. 23cm. 24AWG
Cable 2
CBL-0157L-02
1
CBL,SGPIO,2X4F TO 2X4F,P2.54,RIBBON IN RND TUBE,27CM,28AWG
Cable 3
CBL-PWEX-0582
3
8 pin to two 6+2 pin 12V GPU power cable, 30 cm 16/20 AWG, 10A/pin(16AWG), 6A/pin(20AWG), -25~85C, RoHS/REACH
Cable 4
CBL-0460L
1
8 Pin to Two 4 Pin Backplane Power Ext. 28/22cm. 18AWG
Cable 5
CBL-0484L
4
SATA,INT,ROUND,ST-ST,55CM,30AWG
Label
LBL-0108
1
CAUTION LABEL FOR REDUNDANT PWR SYSTEMS
Manual
MNL-1625-QRG
1
SYS-1028GR-TR(T) QRG,HF,RoHS/REACH
Riser Card
RSC-R1UG-E16AR+II
1
RSC-R1UG-E16AR+II
Riser Card
RSC-G-A66-X
1
1U LHS Active GPU Riser Card with 2 PCI-Ex16 for X10 MBs
Riser Card
RSC-R1UG-E16R+II
1
RSC-R1UG-E16R+II
Riser Card
RSC-R1UG-E16-X9
1
RSC-R1UG-E16-X9
Heatsink / Retention
SNK-P0047PSC
1
1U Passive Front CPU Heat Sink w/ a Side Air Channel for X9, X10 Systems Equipped with a Narrow ILM MB
Heatsink / Retention
SNK-P0047PS
1
1U Passive CPU Heat Sink for X9, X10 Systems Equipped w/ a Narrow ILM MB
Power Supply
PWS-1K66P-1R
2
1U 1600W Redundant Platinum Power Supply 73.5mm width,RoHS/REACH,PBF
EOLSYSTEM is offering a limited-time sale on the high-performance SuperMicro's SuperServer 1028GR-TR (118-16). Equipped with the robust X10DRG-H motherboard, 512GB RAM, and dual Platinum Level efficient PSU, this server delivers exceptional performance and reliability, all within a compact 1U form factor. Take advantage of this limited-time offer and secure the SuperServer 1028GR-TR for just $475, a bargain for the capabilities this server brings to your IT infrastructure. Grab this deal at EOLSYSTEM today and experience a transformative boost in your data management and processing power.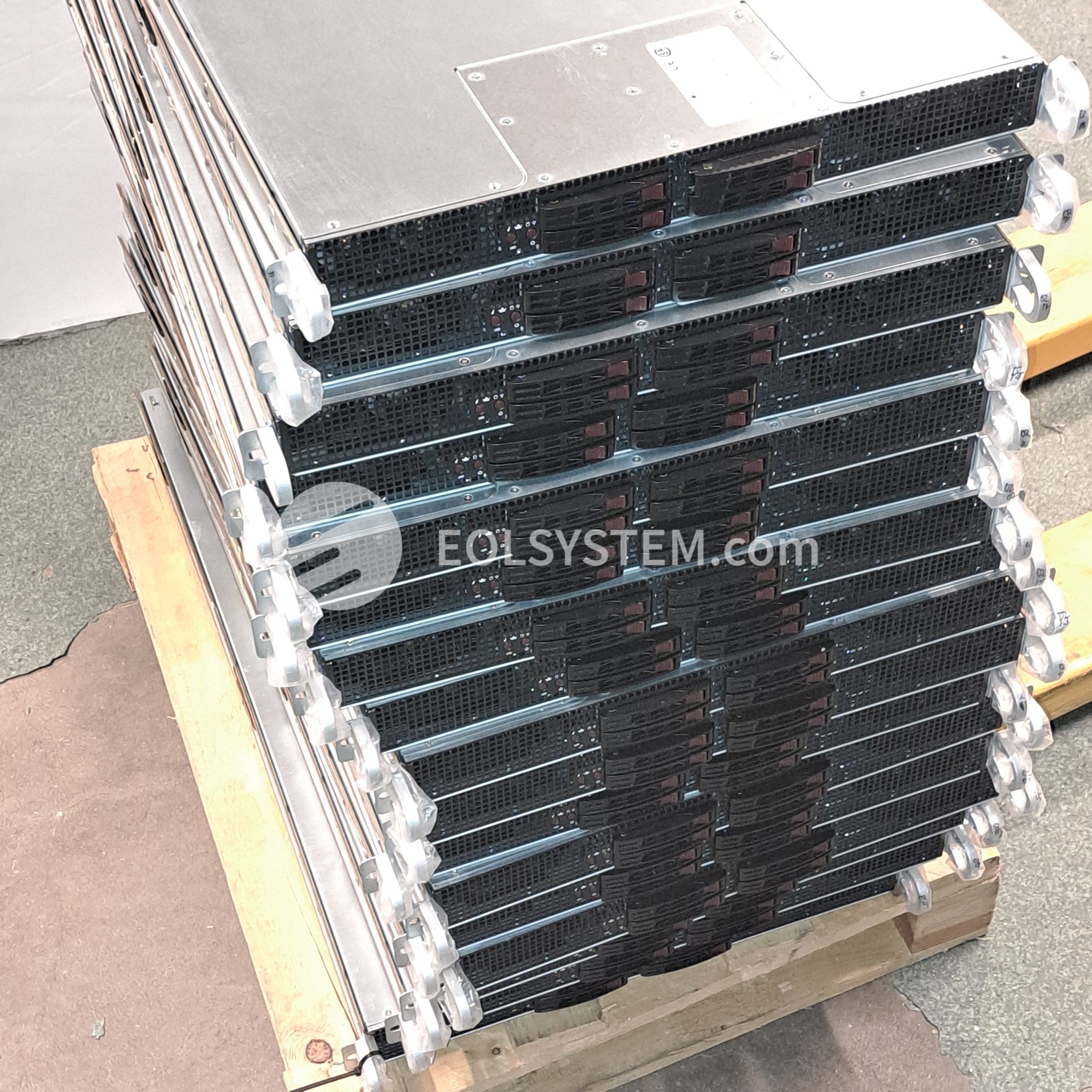 Buy Now!