---
Buy now!
Cisco ASR 920 Series Aggregation Services Routers: High-Port-Density Models The Cisco® ASR 920 Series Aggregation Services Router is a full-featured converged access platform designed for the cost-effective delivery of wireline and wireless services. These temperature-hardened, high-throughput, small-form-factor, low-power-consumption routers are optimized for mobile backhaul and business applications.
ASR 920 routers provide a comprehensive and scalable feature set, supporting both Layer 2 VPN (L2VPN) and Layer 3 VPN (L3VPN) services in a compact package. They also allow service providers to deploy Multiprotocol Label Switching (MPLS)-based VPN services from within the access layer.
ASR 920 series router offers key Carrier Ethernet features that simplify network operation. You can use them for premium services with enhanced service-level agreements (SLAs). And an optional service-activation model supports incremental growth and makes these routers flexible and cost-effective.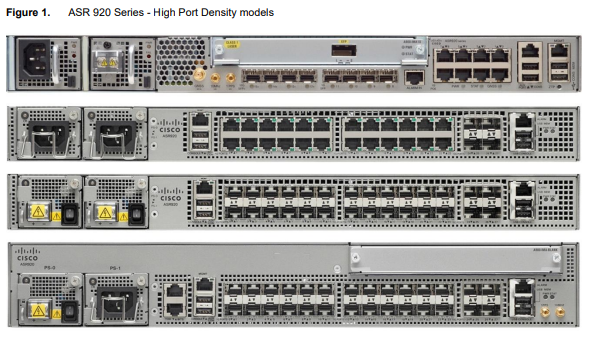 ASR 920 series router offers multiple models with different port densities and interfaces:
● ASR 920 (part number: ASR-920-12SZ-IM)
● ASR 920 (part number: ASR-920-24TZ-M)
● ASR 920 (part number: ASR-920-24SZ-M)
● ASR 920 (part number: ASR-920-24SZ-IM)